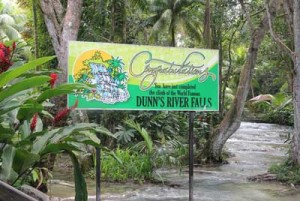 Dunns River Falls is located near the resort section of Ocho Rios and is right next door to the another popular attraction, Dolphin Cove. It is an overwhelming series of waterfalls that send crystal clear water flowing and emerging over layers of stone steps. The falls is known as Jamaica's most renowned attraction . You can in fact climb all the way through the cascading water. The falls can be slippery so be careful.
Dolphin Coves This magnificent property has a natural cove which is surrounded by 5 acres of lush tropical rain forest. Visitors have the opportunity to interact and "Swim With" dolphins, Visitors can also swim with, hold, feed and learn about the evolutionary secrets of the Caribbean sharks. Visitors can capture their dream of being a dolphin trainer by taking the challenge of being "Sea Keeper" for the day. http://www.dolphincovejamaica.com/
JAMAICA BOBSLED RIDE, Our largest slide is so named as a tribute to our famous
Jamaican Bobsled Team.
Experience the excitement that the Bobsled team felt as you navigate the twists and turns of this amazing ride!
You can ride alone in a single tube or take two or three of your friends in a double or triple tube.